A comprehensive list of steps for speeding-up your computer's boot time!
CAUTION: Implement steps with a CAUTION with care. Normal operation may be adversely impacted by modifications.
Step 1: Regularly Restart Computer (at least once a week)
Restarting cleans the computer of programs that may not have closed.
Step 2: Disk Cleanup
Remove unnecessary data and cleanup system folders and caches.
Start > Search "Disk Cleanup"


Step 3: Virus/Malware Scan
Virus and malware will slow down your computer. Regularly scan with anti-virus and anti-malware programs to ensure your computer is healthy!
Step 4: Uninstall Programs
Your computer may be running programs no longer needed. These programs may be loading when the computer boots.
Step 5: Disable Startup Items
CAUTION: Disabling some startup items may affect normal operations (E.g. Disabling iTunesHelper.exe will disable automatic syncing of a connected Apple device).
Start>Search "msconfig.exe"


Click the Startup tab. Deselect items as needed.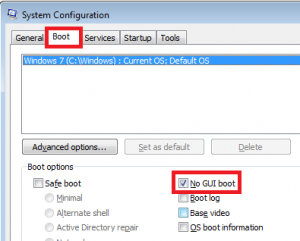 Step 6: Defragment (HDD only, NOT for Solid-state Drives)
Defragmenting a hard disk drive, which has rotating platters, reorganizes and optimizes the location of data on the disk. DO NOT USE on solid-state drives (unnecessary for performance and will degrade the life of the SSD).
Start > Search "Disk Defragmenter"


Step 7: Disable Unused Hardware
Disabling unused hardware such as floppy drives will prevent Windows from loading drivers on boot.
Start > Search "Device Manager"


Right click on device. Select Disable from the menu.


Step 8: Set Power Options to "High Performance"
Setting power plan to "High Performance" may increase CPU performance.
Start > Search "Choose a power plan"


Select High performance


Step 9: Change From Aero to Basic Desktop
Aero Desktop may slow down performance with its translucent glass design.
Scroll down and select a Basic Theme.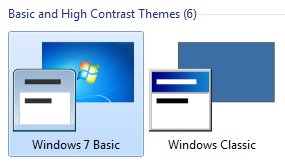 Step 10: Set a Solid Color Background
A solid color background will free up RAM for other processes.
Start > Search "Change desktop background"


Start > Search "Troubleshooting"


Start > Search "Indexing Options"


Click Modify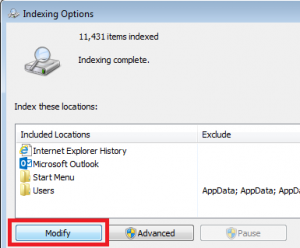 Step 13: Disable Services
Some program services start automatically on boot but are not needed. (E.g. Acrobat Update)
Start > Search "services"


Under the General tab, select Disabled in the drop-down.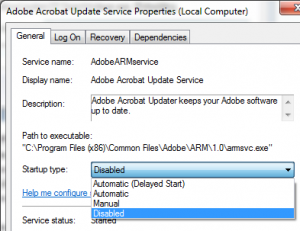 Step 14: Modify BIOS Boot Settings
The BIOS, by default, checks the CD/DVD drive for boot media before the hard disk. Changing this priority in the BIOS will shave off a few seconds on boot.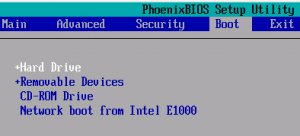 Step 15: Modify the Registry
Reduce the timeout for ending a process or application automatically
CAUTION: Reducing timeouts may prevent application auto-save from completing in time (E.g. Word).
CAUTION: Export back-up of registry before implementing changes.
Start > Search "regedit.exe"


Create back-up. Right click on Computer and select Export. Save to location.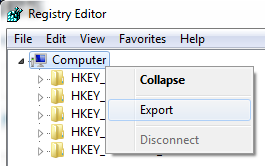 Navigate to HKEY_LOCAL_MACHINE\SYSTEM\CurrentControlSet\Control and change WaitToKillServiceTimeout to 2000 (or 2 seconds).
Navigate to HKEY_CURRENT_USER\Control Panel\Desktop and change WaitToKillAppTimeout to 2000 (or 2 seconds).
If AutoEndTasks does not exist, create it. Change value to 1.Step 16: Add Additional RAM
Microsoft recommends at least 3 Gigabytes of RAM for optimal performance in Windows 7.
Check computer RAM
Start > Computer (right click) > Properties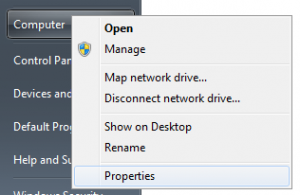 Under System, "Installed memory (RAM):"


Step 17: Upgrade to Solid State Drive (Enable TRIM)
Solid state drives (SSD) have very fast read times and will significantly improve boot time!
Ensure TRIM is being utilized with your SSD.
Start > Search "cmd" > Right click, select "Run as administrator"


At the prompt, type "fsutil behavior query disabledeletenotify"
If disabledeletenotify is 1, TRIM is disabled.
Enable TRIM, type "fsutil behavior set disabledeletenotify 0" References

1. Microsoft – Optimize Windows for better performance
http://windows.microsoft.com/en-us/windows/optimize-windows-better-performance#optimize-windows-better-performance=windows-7

2. PC Mag – 12 Tips to Speed up Windows 7
http://www.pcmag.com/slideshow_viewer/0,3253,l=251694&a=251692&po=6,00.asp

3. Tom's Guide – 15 Ways to Speed Up Your Boot and Shutdown Times
http://www.tomsguide.com/us/pictures-story/516-9-Windows-Boot-Slow-Fast-Boost-Shutdown.html

4. PC World – Speed up your PC's boot time by finding the worst startup offenders
http://www.pcworld.com/article/2453280/speed-up-your-pcs-boot-time-by-finding-the-worst-startup-offenders.html

5. Lifehacker – Top 10 Ways to Speed Up Your Computer's Boot Time
http://lifehacker.com/5821865/top-10-ways-to-speed-up-windows-boot-time

6. Auslogics – Improve Windows Performance
http://www.auslogics.com/en/turbo-windows/improve-windows-performance/

7. Microsoft – What's new in managing power settings
http://windows.microsoft.com/en-us/windows-vista/whats-new-in-managing-power-settings

8. Seven Forums – How to Start or Disable Services in Windows 7
http://www.sevenforums.com/tutorials/2495-services-start-disable.html