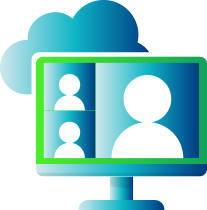 Atom Creek Terms and Conditions
Acceptance and Incorporation by Reference 
This Order together with the Master Services Agreement and Service Attachments and other terms and conditions identified on Exhibit A, all of which are incorporated herein by reference (collectively, the "Agreement") is between Atom Creek (sometimes referred to as "we," "us," "our," or "Provider"), and the customer found on the signature block at the end of this Order (sometimes referred to as "you," "your," or "Client"). This Agreement is effective as of the date both parties have signed below (the "Effective Date."). Both Provider and Client are sometimes referred to individually as a "Party", or together as the "Parties". Any capitalized terms in this Order not directly defined are referred to in the applicable document identified on Exhibit A of this Order. If there is a conflict between this Order, the Master Services Agreement, any Service Attachment, or Exhibit, this Order will control.
By signing below, Client acknowledges, represents, and warrants that it has read and agrees to the terms and conditions identified on Exhibit A to this Order which are incorporated as if fully set forth herein.
The parties hereby agree that electronic signatures to this Order shall be relied upon and will bind them to the obligations stated herein. Each party hereby warrants and represents that it has the express authority to execute this Agreement(s). This Order supersedes all prior negotiations, proposals, orders, agreements and communications between the parties regarding Provider's Services.
Provider may make changes to the Agreement at any time. If there are changes, Provider will revise the date at the top of the document.  Provider may or may not provide Client with additional notice regarding such changes. Client should review the terms and conditions regularly. Unless otherwise noted, the amended terms and conditions will be effective immediately, and your continued use of the Services thereafter constitute your acceptance of the changes. If you do not agree to the amended terms and conditions, you must stop using the Services immediately.  Please note, you may incur a termination fee or other third-party fees, if applicable.  You may access the current version of the terms and conditions at any time by visiting http://atomcreek.com/legal.
The parties, acting through their authorized officers, hereby execute this Agreement.
Exhibit A
Services Attachment for Managed Services
Schedule of Third-Party Services
Service Attachment for Managed Video Surveillance